Elevating five-star resort living to a higher echelon, TPC Treviso Bay in Naples is often compared by its residents to an ultra-luxe golf-intensive summer camp for grown ups of any age, where limitless options for year-round fun at — and beyond — its 7300+ yard emerald fairways make everyday living comparable to an infinite vacation.
Notching things to the next level, the Peninsula at Treviso Bay is the community's newly-unveiled gated neighborhood within a neighborhood, comprising 55 single-family residences, each boasting custom appointments and spectacular vistas of the grand azure lake and course fairways and greens.
Better still, all Peninsula new home purchases include a bundled golf membership to Naples' only Tournament Players Club (TPC)-designated course, approved by the PGA for tournament play. Annual golf dues are currently $3,395.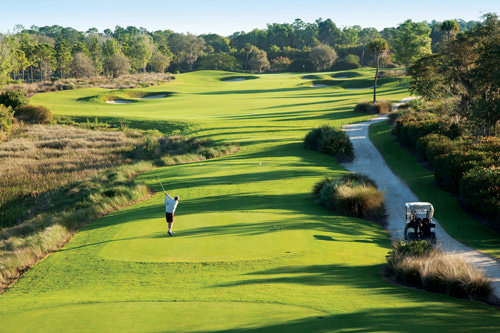 Play Like The Pros Every Single Round
TPC's championship courses present several unique values to recreational golfing enthusiasts, inviting them to experience the sport as the pros do.
Considered SWFL's best-in-class TPC by NBC's Golf Channel, Treviso Bay's was carefully and imaginatively produced by award-winning course architect Arthur Hills, whose name is synonymous with links that are beautiful, fun to play, and classic in character and strategy. He considers Treviso Bay's boomeranged 12th hole (nicknamed the "Long Way Home" by the property's pros) among his best work spanning a career portfolio of 180 world-class courses.
Given the community's topography of lush tropical landscaping under sunny skies, Treviso Bay's relatively flat course with carpet-soft Paspalum Bermuda grass belies a range of challenges, notably a dozen crystalline water hazards, sprawling bunkers, tree-lined fairways, plus refreshing breezes from the nearby Gulf of Mexico.
Longtime Treviso Bay resident Michael Heimer, a former club champion at two of Michigan's most prestigious courses, notes how "Depending on daily conditions, judicious selection of your best club is always warranted. No two rounds are ever the same. It also explains why my friends – both up north and locally – are always asking for invitations to play."
Ideal for residents whose lifestyles require spending time away from Naples now and then, reciprocal play at TPC's 30 venues spanning more than a dozen states across America — and several international sites — is also included.
A quick perusal of recent reviews from players taking advantage of TPC's reciprocity with Treviso echoes this sentiment, citing "The fairways are relatively tight and selecting one's landing area carefully is crucial as there are numerous water hazards. But the course is fair and the carries not too long even for relatively high-handicap players."
Experiencing Nature Is Par For The Course
With homes built around its back and front nines, Treviso Bay was initially carved from a parcel of neighboring Rookery Bay National Estuary Reserve, whose undisturbed 110,000-acre preserve is the rare pristine example of a mangrove forest. Nodding to its nature legacy, surrounding grounds are painstakingly tended to year-round through sustainable irrigation and indigenous plants.
The entire property also adheres to TPC's stringent environmental standards, boasting certification in the Audubon Cooperative Sanctuary Program by helping to preserve and protect wildlife habitats on its managed courses. On any given day, players are privy to spectacular sightings featuring nearly 150 bird species.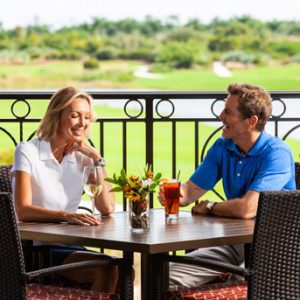 Post-Play Fun + Relaxation
Treviso Bay's newly constructed 76,000 square-foot clubhouse offers a slew of delectable dining options plus private rooms for special events and meetings; a smartly stocked pro shop; and a lounge featuring billiards, a game room and library. There's even an attendant ready to shine your shoes or change your spikes. Overlooking the 9th and 18th holes, The Player's Grille presents traditional favorites and seasonal cuisine.
"Everything you can imagine is real." Pablo Picasso once said, and it's a fitting thought for all Treviso Bay offers its residents. Why leave the property when perks include unlimited access to Villa Rilassare, the 15,000 square-foot facility where lavish resort amenities feature a full-service salon and spa, a fitness-focused health club for total body conditioning, and multi-pool complex.
Feeling famished? Casual poolside dining at La Piscina restaurant awaits your order. If tennis, pickleball, or bocce is also your style, it's all here and meticulously maintained.
Peninsula at Treviso Bay's Location Is A Hole In One
Consider convenience as the ultimate amenity. Far from uptown's bustling crowds, the community is nestled between US 41 and Collier Boulevard, minimizing time spent navigating traffic — no matter the time of year.
Think of it as 5-10-15: When opting to dine at home, three supermarkets – Lucky's, Fresh Market and Publix – are a quick five-minute drive. Living here puts you within 10 minutes of SWFL's best-loved attractions including Naples Botanical Garden, Collier's history-rich Historical Museum as well as the chic boutiques and critically-praised restaurants adorning tony Fifth Avenue South.
A spontaneous jaunt to the beach is easy too. While Treviso Bay is furnished with its own chaises, palm trees, hammocks, and private cabanas, venturing to one of the county's renowned beaches is 15 minutes: both Marco Island's expansive white sands and Old Naples' golden powder are equidistant from the property. Ownership also qualifies residents for the County's complimentary parking pass to all public beaches.
A repeat Gallup poll winner of "America's Happiest City," Treviso Bay's location in Naples' southbound stretch just might be the area's best-kept secret address where a quick glimpse roadside teases the curiosity, discreetly hinting at the beauty beyond the breathtaking bridge.
As no homes are visible until crossing its gates, appointments with Treviso Bay's sales center are required for touring the TPC course plus experiencing Peninsula's new coastal contemporary model homes as designed by Kukk Architecture, and built by Imperial Homes of Naples.
The sales office is located at 9004 Tamiami Trail East, and open from 10 am to 5 pm daily. Please call 239-249-6830, or visit peninsulanaples.com to arrange your visit.
---
WCG is an award-winning, full-service, public relations, print and digital advertising and marketing firm assisting companies throughout Naples, Fort Myers and Southwest Florida in the development of successful brand, marketing and advertising strategies. Its partner company, Sprickit Digital, offers full-service digital marketing and digital advertising services throughout Florida and the United States. Their offices are located at 2343 Vanderbilt Beach Road, Suite 608, in Naples, Florida. For more information, call 239-597-9480, visit www.wcgpros.com or sprickit.com