Truluck's, located at 698 4th Avenue South, reopened for business on October 16th after an extensive renovation of the interior and exterior of the restaurant and bar.
Truluck's has been a Naples favorite on 5th Avenue since 2004, specializing in freshly caught seafood and tender, juicy steaks. The downtown Naples location marked the franchise's first location in Florida when they opened nearly fifteen years ago. Chief Operating Officer of Truluck's Restaurant Group, David Tripoli says, "As we enter our 15th year in Naples, we committed ourselves to reinvesting in the community we serve, and providing guests with an elegant, alluring ambiance. We will continue to serve guests with the Southern Hospitality they expect from Truluck's, for a one-of-a-kind dining experience," Tripoli adds.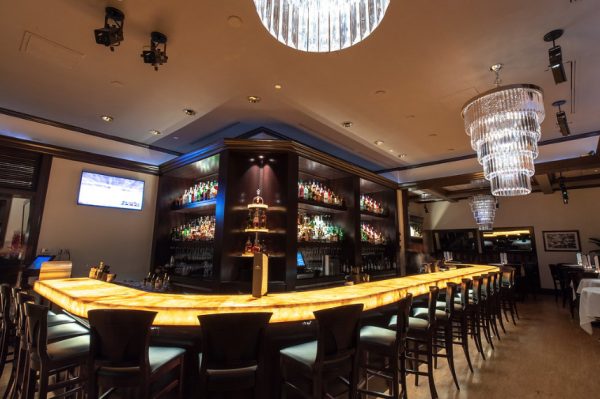 Two significant changes to the restaurant include the reimagined entryway and striking new bar lounge. Guests are welcomed through the new and improved entry, featuring rounded glass double doors and portico. The bright and bold entrance sits between 5th Avenue and 4th Avenue South, behind the Inn on 5th. The translucent onyx bar top is the focal point of the lounge area. Onyx is a translucent material, when lit from underneath, creates a uniquely dramatic and rare lighting effect.
Other cosmetic changes were made in addition to these major updates, including updates to flooring, lighting, and millwork. Truluck's also modernized their dining furniture throughout the restaurant. Executive Director of the 5th Avenue South Business Improvement District, Bruce Barone Jr., says, "The renovations are fantastic and reflect the elevated level of food and service you'll find inside. I look forward to seeing Truluck's succeed during season in southwest Florida," Barone adds.
Stephen Moulton, Truluck's Director of Construction, contracted Build LLC located in Naples, Florida, to complete the renovation and Dick Clark & Associates from Austin, Texas for architectural design.
About 5th Avenue South Business Improvement District
The 5th Avenue South Business Improvement District (BID) was established in 2010 to promote 5th Avenue South through avenue enhancement, marketing, events and business and property services. Its mission is to brand, promote and create awareness of the 5th Avenue South Business Improvement District to residents and visitors as the destination of choice to live, work, shop, dine and play. Managed by a board of directors representative of district boundaries, the BID represents the interests of both property owners and businesses in growing and sustaining a healthy, vibrant 5th Avenue South district. The BID is located at 649 5th Avenue S and can be reached at (239) 692-8436.
For more information, visit https://www.fifthavenuesouth.com
---
WCG is an award-winning, full-service, public relations, print and digital advertising and marketing firm assisting companies throughout Naples, Fort Myers and Southwest Florida in the development of successful brand, marketing and advertising strategies. Its partner company, Sprickit Digital, offers full-service digital marketing and digital advertising services throughout Florida and the United States. Their offices are located at 2343 Vanderbilt Beach Road, Suite 608, in Naples, Florida. For more information, call 239-597-9480, visit www.wcgpros.com or sprickit.com