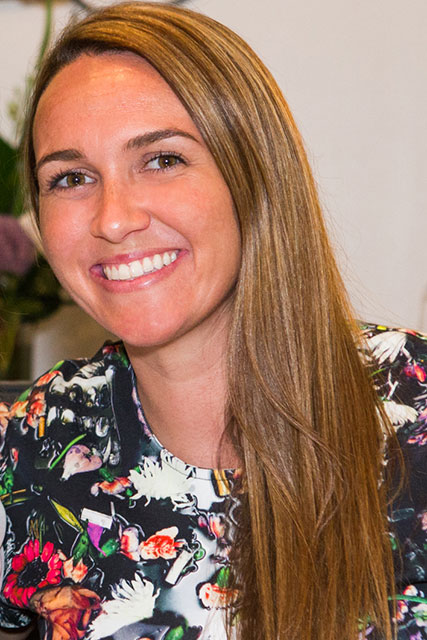 Elizabeth Lombardo, account manager at Wilson Creative Group (WCG) has been named to Business Observer's "40 Under 40" rising stars according to Peggy Wilson, CEO and founder of the award-winning Naples-based advertising and public relations agency.
"40 Under 40" is an annual issue open to entrepreneurs, executives and professionals in any field or industry from Polk through Collier Counties that recognizes 40 bright and successful leaders in the business community under 40 years old, from a variety of occupations, including law, education, medical finance, public service and the arts as well as entrepreneurs.
Lombardo, 31, was selected from a field of more than 100 nominations; as judges considered professional accomplishments, volunteer work and other plaudits from their nominators.
As account manager for WCG, Lombardo is responsible for client management, creative work and budgeting on behalf of the firm's stable of more than 25 luxury real estate advertising account. The publication cited the variety that comes with Lombardo's job can make it demanding, but it's also what she appreciates about it.
"In advertising, you learn every day," says Lombardo. "That's what I love. It's something different. You're always faced with new challenges and I really like that aspect," she adds.
Wilson notes that Lombardo, a Florida Gulf Coast University graduate, joined the agency in 2015. "Elizabeth has distinguished herself by making significant contributions to our agency's economic, charitable and civic well-being," says Wilson. "She provides vision, meets the challenges and solves problems," she continues. As a result, WCG has established a reputation of creating memorable brands and dynamic marketing communications plans.
Founded in 2007, Wilson Creative Group delivers smart ideas and expert design to clients in Naples, Fort Myers and all of Southwest Florida. WCG offers a wide range of services and handles every facet of planning and implementing effective brand, advertising and public relations strategies. WCG's work has been recognized with numerous awards from the Advertising Federation of Southwest Florida and the Building Industry Associations of both Lee and Collier counties. WCG offices are located at 2343 Vanderbilt Beach Road, Suite 608 in Naples.
For more information, call 239-597-9480 or visit www.wcgpros.com.
---
WCG is an award-winning, full-service, public relations, print and digital advertising and marketing firm assisting companies throughout Naples, Fort Myers and Southwest Florida in the development of successful brand, marketing and advertising strategies. Its partner company, Sprickit Digital, offers full-service digital marketing and digital advertising services throughout Florida and the United States. Their offices are located at 2343 Vanderbilt Beach Road, Suite 608, in Naples, Florida. For more information, call 239-597-9480, visit www.wcgpros.com or sprickit.com