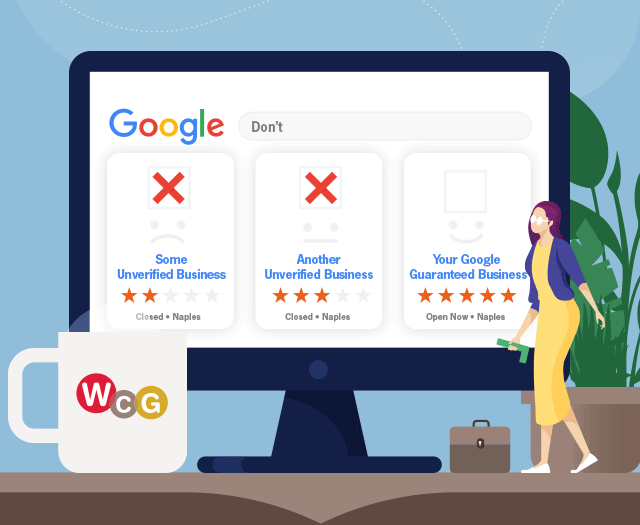 Don't just say you're trustworthy—prove it!
Gain customer confidence by earning a Google Guaranteed badge.
Surrendering money in return for goods and services can feel like a leap of faith—especially if there's unfamiliarity with the brand behind what's being purchased. Customers may worry their Internet searches, blog-browsing and pleas for recommendations on social media will ultimately be worthless. And while they're rational human beings who can spot a con a mile away, they're haunted by the centuries-old proverb, "Caveat emptor." Let the buyer beware.
Good advice is good advice—whether you say it in Latin or English. Customers really should be skeptical when digitally diving in unfamiliar waters. Way back in the 20th Century, they looked to trustworthy authorities on what they bought. One of the most widely recognized—the Good Housekeeping Institute's Seal of Approval, an emblem of trust a brand had to earn.
Leap ahead to today's digital environment and the Google Guaranteed badge—a powerful accreditation for businesses passing a Google screening and qualification process through Local Services Ads. Because Google Guaranteed is earned under extreme scrutiny and backed by the power and might of our solar system's most fearsome search-engine behemoth, it conveys significant trust and confidence.
Being Google Guaranteed shows immeasurable promise from both an SEO and ROI standpoint. Local Services Ads for Google Guaranteed businesses get boosted all the way to the top of search engine results pages (SERPs). If you've always wanted to be first among your competitors and be seen by more prospective customers looking to buy what you're selling, this is a great way to do it!
As its name indicates, Google Guaranteed is a guarantee Google gives to consumers. Once your company is enrolled in the Google Guaranteed program, customers that access your business through Google have a sort of safety net. Google covers up to $2,000 in claims of the amount paid for customers who are unsatisfied. To get this coverage from Google, customers have to book through Local Services.
How do you become Google Guaranteed? Not all industries qualify, so talk to your friends at Wilson Creative Group first. Then, your company needs to sign up for Local Services Ads—Google links the two in the registration process. Next, Google will perform a background check on your business. They screen your employees and audit your current online reviews and ratings. Finally, Google verifies if your business is licensed and insured. Simply submit your proof of insurance and license number to them. Of course, we can walk you through the entire process.
In short, Google Guaranteed is a highly cost-effective point of differentiation between your brand and the competition. The next time you contact us, ask us about Local Services Ads and Google Guaranteed—and how they can benefit your business and marketing campaign results.