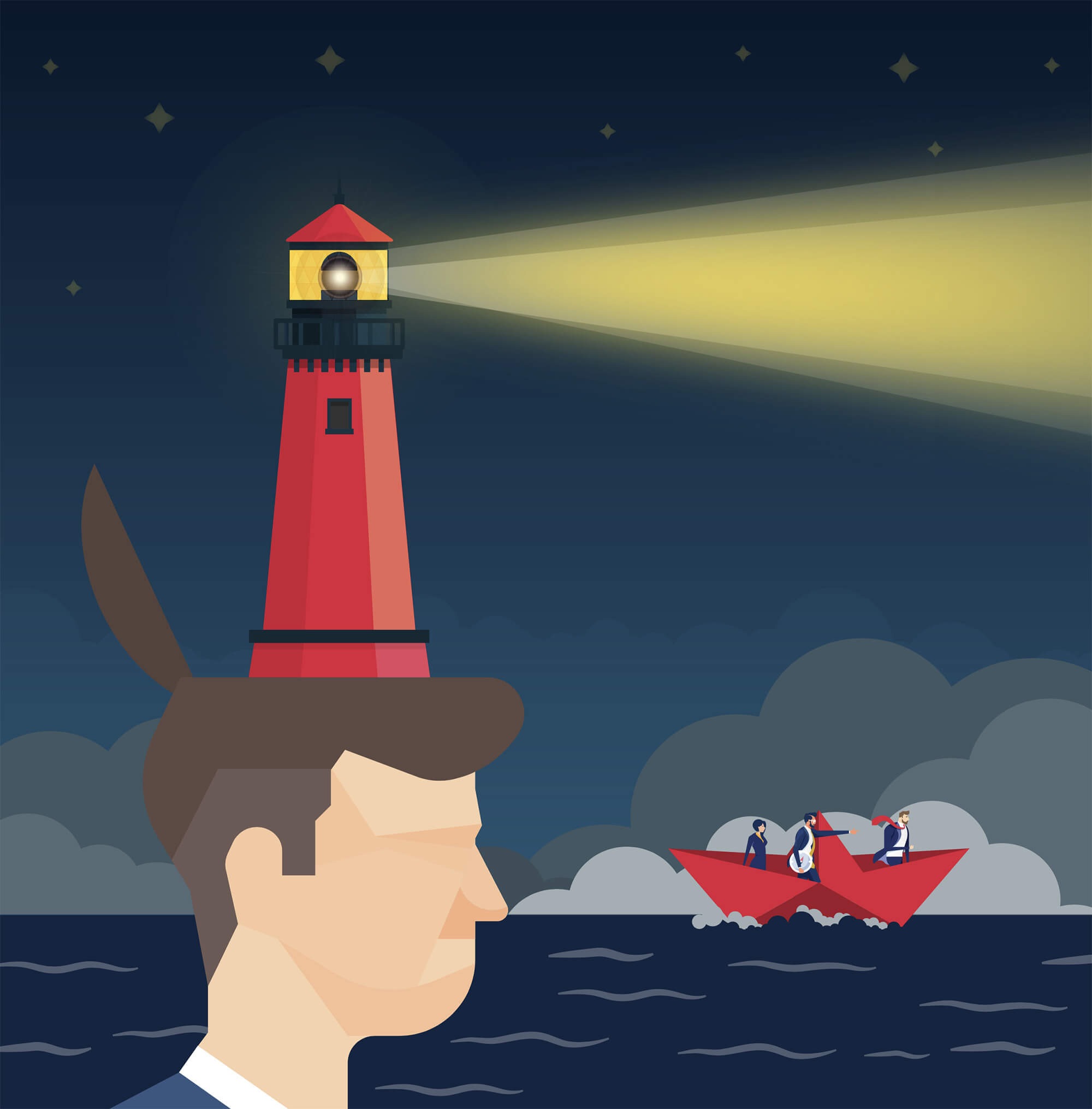 New to agency life
Hidden amongst the services, restaurants, empty offices, and mom-and-pop shops in a plaza not unlike any other in Naples, Florida, lives a lighthouse—but not the kind you are familiar with.
While it may not guide those lost at sea, it is a guiding light for some. This lighthouse is a beacon of innovative marketing communications, advertising campaigns and public relations services, designed to guide you and your business in the right direction. It helps small businesses through growth and helps puts kids through college. It creates meaningful and memorable brand identities for industry leaders looking to sail into the future. It shapes and showcases dynamic new ideas across all channels. And it helps expand brand awareness and dominance in marketplaces.
This guiding light is Wilson Creative Group.
I grew up running around, playing sports and getting in trouble in the neighborhood like an average kid. I began to gravitate towards more creative endeavors as I got older. Drawing and painting turned into living with a camera in my hand, always in pursuit of new subject material. I abandoned sports for something brighter in my heart, leading me to a fine art school to study photography.
Throughout my time at school, my life followed the trajectory of any other student trying to pursue creative means—turning to the hospitality and service industry to make ends meet. My parents, having spent most of their professional lives in this industry, instilled in me the knowledge and qualities necessary for me to succeed in it. I worked every position from dishwasher all the way to operations manager. I learned an incredible amount about people, behaviors, tendencies, managing against problems, efficiency and so much more, but It wasn't enough.
It was keeping me from where I really wanted and needed to be. I yearned for that creative environment I had found in art and in art school.
Early in Fall 2019, I was looking for a new light and came across a traffic coordinator position on a snapchat story—how millennial. I was familiar with WCG, but completely in the dark as to what they did or even what a full-service advertising and marketing agency did. This led me to a formal job posting, which led me to an interview with Peggy Wilson, President and CEO.
She decided to take a shot on this local kid with a unique skill set. I finally had my opportunity for a new beginning and knew that I could conquer this new challenge.
Side note to all, whoever you are, if you really, really, REALLLYYYY want a job, hand write a thank you note. Write something you mean and hand-deliver it. The little things don't always get you the job, but they make you memorable. Okay, back to the action.
When I arrived for my first day, the office was busy and bustling. I was quickly introduced to the team, dogs included. Having been so green to the advertising and marketing world and never having worked at a desk job, I had no idea what I was getting into. I didn't know what I didn't know. So, when I built my own desk as a first assignment, I felt as if I was building my new career from the ground up. I was going to assemble this new life as I gained priceless knowledge piecing together all that I had ever learned. My heart was warm, and this new challenge was scary and exciting.
Day-by-day I learned all the ins and outs of office and agency life, like the importance of getting projects turned around on time, communication between departments about creative challenges, espresso breaks and actually sitting down to eat lunch.
My direct responsibilities grew and changed daily from managing jobs and schedules, to some days desk assembly and storage closet organization, mixed in with the occasional fire to put out. Through this, I listened to people communicate on projects in what at the time to me was gibberish. I was deciphering new terms on the fly, asking questions to understand end goals and timing better.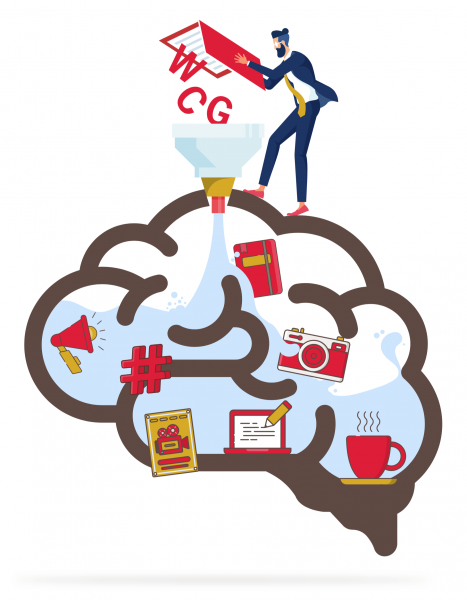 Learning that there was so much I didn't know, I began absorbing any and all information when possible. Filing our samples became less of a responsibility than it was a time for me to do research. I was placing new things in a library of marketing materials with access to everything at my fingertips. Any branding material you could ask for—it's in those cabinets.
I began to pay attention to paper types, design evolution and the tone of a brand's identity as it aged over the years and grew. I learned the importance of things that I, as a consumer, wouldn't have considered before. I came to see the extent to which every piece is manicured and loved from start to finish. Through this, I learned there is so much more collaborating and thinking that goes into something when done properly.
Every day I would find new things that we do to provide for our clients through setting up schedules, adjusting to on the fly changes and monitoring workflow. I began to understand the importance of business card design, how your eye flows on a one-sheet and the benefits of a properly laid out website. Things I had only dreamed of having a better understanding of began to shape something in my mind; the lighthouse began to construct itself.
As days turned into weeks and weeks turned into months, I finally figured out what we did: everything. I went from generally understanding who we are to something more conceptual. We are the keepers of the lighthouse. We are an art team with no limits. We are web developers that are unphased by challenges. We are dynamite public relations. We are efficient managers of client budgets. We are a young, strong core of account executives hell-bent on doing anything and everything we can to serve clients, all led by a warrior with a vision. A positive outlook so strong not even Poseidon could take down her lighthouse.
We are a team of highly skilled individuals guiding those who need it to success, driving business with thoughtful precision by illuminating strengths, building on weaknesses and producing unbelievable creative at a breakneck pace.
Sorting out and assigning tasks through these masters of their respective crafts allowed me a unique experience for someone new to this industry. Most people just see the clock and the time. I am inside witnessing and helping the gears turn.
I am constantly connecting the workflow chain and adjusting it as things or ideas change. I get to see a job's full progression, from kick-off meetings where unreal creative is breathed into life to revisions that pivot work to new and beautiful places. I also see where we can save time and money for the agency and client.
I began to witness the complexities of creative decision-making and its striking beauty and lessons.
As the months went on, I began to familiarize myself with how special this experience was. I had welcomed this new environment with an open mind, and it welcomed me with open arms.
This company was built and nurtured out of necessity. As an agency where creative matters. Where above all, people matter.  It is who you look to in the dark, in business and life, as a light to guide you through any circumstance, sunshine or rain. Where nothing is a mistake unless it leaves the building. Where no idea is too big. And no stone is unturned. Where people with global heritage collaborate to get the highest quality result, captivating the audience in the best way possible to launch new campaigns, accomplish a business's goals and help realize lifelong dreams.
Full commitment no matter what—that is, if the budget permits.