Design Goal: emphasize JRW's global connection
We decided to begin our Website Wednesday with one of our favorites – both design and client – John R. Wood Properties. As a design team (we can't claim credit for the coding on this one), we wanted to use web tools which will be informative and useful, while also continuing to grow the JRW brand by highlighting it's connection to the global market.
Stunning Sliders
The sliders on the home page feature both the new ad campaign and beautiful photographs of JRW listings. With striking sliders featuring the new ad campaign and beautiful shots from JRW listings, they provide brand consistency across the web and give visitors a good understanding of the elite real estate they are dealing with.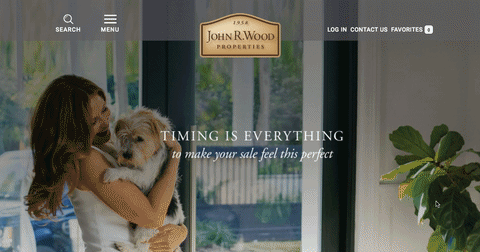 Global Luxury
JRW is a unique company because they are locally owned, but they are connected to brokerages in over 200 countries. We communicated this feeling with an oversize graphic and solid copy which jumps off the screen. Below, we show the proof JRW's excellence with a live-updated module to show active listings, pending sales and properties sold in the last 90 days.

Interactivity
How do you present a lot of content without overwhelming the reader? We used a hover-style effect to bring the images into full-color on the home page.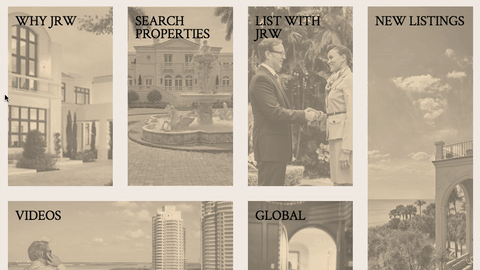 Search & Information
Although we want to spend all our time building the brand, we also need the site to give the clients what they need. We included a search with many categories – navigable from the menu bar, drop downs with information and a gallery page to elegantly display the listings.
Don't just watch the video, visit the
site
and find browse and find your perfect home.
---
WCG is an award-winning, full-service, public relations, print and digital advertising and marketing firm assisting companies throughout Naples, Fort Myers and Southwest Florida in the development of successful brand, marketing and advertising strategies. Its partner company, Sprickit Digital, offers full-service digital marketing and digital advertising services throughout Florida and the United States. Their offices are located at 2343 Vanderbilt Beach Road, Suite 608, in Naples, Florida. For more information, call 239-597-9480, visit www.wcgpros.com or sprickit.com