Web Goal: create a consistently stunning brand experience
Sometimes the best strategic decisions is to throw complicated to the wind—you know, go full life changing art of simplified branding. It's easy when you work with a company like Synergy whose widely known for creating audio/visual systems to simplify and enhance your life.
As our creative team was in the midst of reimaging the Synergy brand, one word kept resurfacing: simplified. It was the essence of Synergy and we wanted to provide the same streamlined user-experience on the web.
Stunning (and consistent) Brand Experience
Recognition is the hard-earned reward of a good brand. In order to gain this recognition, we needed to synthesize the Synergy across every platform. As we recreated entire brand (logo, vehicle graphics, one-sheets and more), something bold, blue and modern arose; something distinctly Synergy.
The site embodies the result of this collaboration. It grabs visitors' attention with stunning visuals painted in hues of blues and grays. The visuals—and supporting copy, all work together to create an impression of their life-enhancing work. When people see the logo one a side of a truck, or find a one-sheet, and they tap their phones over to the website to find the same stunning visuals, they rightly assume synergy provides a consistent customer experience.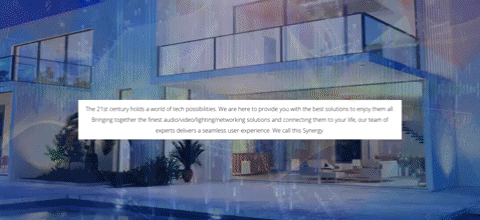 Centerpiece the USP
The Three-Pillar Solution is Synergy's turn-key approach designed to deliver the most innovated user-experience in the industry. We needed to make this revolutionary approach to home technology the focal point of the website—something users can't miss. Just below the graphic, a few quick bits of copy summarizes the solution and a CTA button encourages the reader to venture further into the website.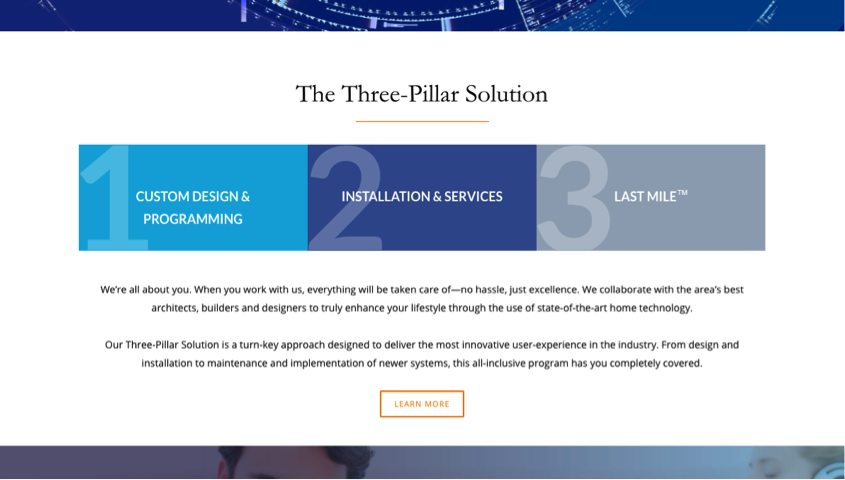 Simply Succinct
From a strategic perspective, everything about the website simulates interacting with Synergy. Of course the copy is concise and the message is clear, but the page count is also minimal. With only a few pages, visitors have a real sense of the clarity Synergy provides. We explained the Three-Pillar Solution, gave a quick glance at the team and highlighted Synergy's accessibility and reliability through their easy-to-use contact page.
Take A Tech Leap
Is it time for your audio/visual system to be ahead of the times? Head over to the Synergy website to learn more. Does your brand need a boost? Check out the rest of our blog for more inspiration.

---
WCG is an award-winning, full-service, public relations, print and digital advertising and marketing firm assisting companies throughout Naples, Fort Myers and Southwest Florida in the development of successful brand, marketing and advertising strategies. Its partner company, Sprickit Digital, offers full-service digital marketing and digital advertising services throughout Florida and the United States. Their offices are located at 2343 Vanderbilt Beach Road, Suite 608, in Naples, Florida. For more information, call 239-597-9480, visit www.wcgpros.com or sprickit.com