Web Goal: encourage students and their parents to understand and engage with the Quest for Success
Website Wednesday has shown our wide variety of clients, but the Quest mission is something very special. Quest College Success helps high school students find the perfect college. Our design needed to appeal to two different demographics—the students and their parents. We were able to inform (what the parents want) in a fun and engaging way (what the students want).
Video Backgrounds
High school kids never slow down—whether out with friends or working on homework, their young minds are always spinning with new ideas. We incorporated movement on the Community Page with one of our favorite features, a video background. Our goal was to express how the energy and joy kids (and all of us for that matter) feel when we give back to others.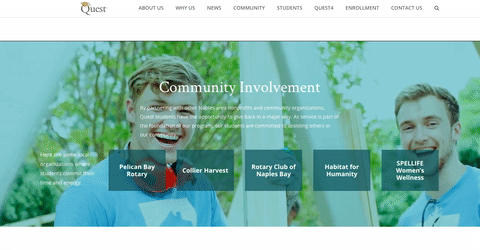 Combining Data with Responsive Graphics
The best part about Quest is that it really works. Parents and students alike love to see the numbers, and when we ad a splash of interactivity, the power of Quest is revealed.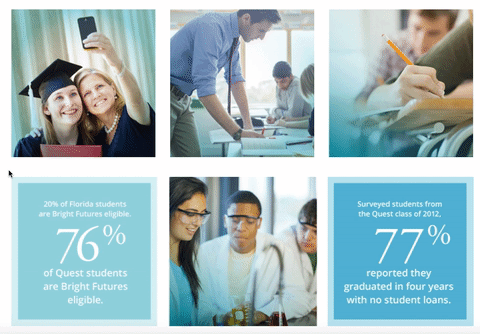 Design it Bold
Balance a modern look the kids love, with the information the parents need to make a decision… no it's not impossible. With an organization who does so much to help kids build a better future, putting our heads together to create a great site was a no-brainer.
Don't just watch the video, visit the site and find your way to success.

---
WCG is an award-winning, full-service, public relations, print and digital advertising and marketing firm assisting companies throughout Naples, Fort Myers and Southwest Florida in the development of successful brand, marketing and advertising strategies. Its partner company, Sprickit Digital, offers full-service digital marketing and digital advertising services throughout Florida and the United States. Their offices are located at 2343 Vanderbilt Beach Road, Suite 608, in Naples, Florida. For more information, call 239-597-9480, visit www.wcgpros.com or sprickit.com