Website Wednesday Week 5: Edge Custom Cabinetry
Web Goal: keep the user experience clean and sharp to echo the work of internationally renowned designers
When EDGE Cabinet & Space Creators wanted to launch a new website, we knew it would take special work to match their world-renowned designs. We put the whole team together and simply trusted the process.
Start with Solid Copy
Bespoke. It's a sentence in itself, evoking feelings of singularity and distinction. The word became the cornerstone of all our copy—elevated, concise and modern. Once the copy was gathered, our design followed.
Add a Sophisticated Logo
A logo isn't a brand, but for many consumers, it's our first contact with a business. We created the award-winning EDGE logo with superb symmetry to evoke the clean, modern lines in EDGE's work. When we took the logo to the web platform, we gave it a dash of animation (we'll explain it below).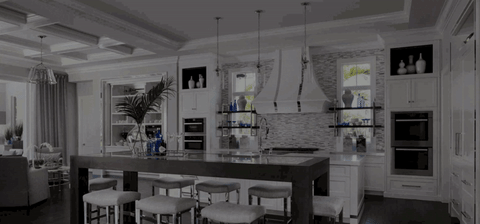 Use Bold Imagery
EDGE's work speaks for itself. It's an immersion. Our design translated this visual experience to the web, choosing to put the imagery on the center-stage so it can wow visitors. We also incorporated oversized images on the team to give these renowned designers a larger than life feel.
Put it in Motion
Once we have the logo and imagery in place, we decided to add an extra touch of sophistication. The logo (located in the hero) begins as a square and then pulls apart for a dramatic reveal. We also used a zoom hover feature on all the imagery, but our favorite is a reverse-parallax on the home page. It quietly ups the ante.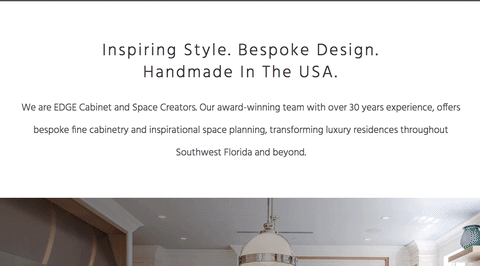 Distill it with White Space
The designers at EDGE make life simpler for their clients. They de-clutter spaces to give the home the added breeze of livability. We gave the visitors the same feel by using white space throughout the site, rather than jamming content and color everywhere. It heightens the elegance, and gives visitors the online EDGE experience.
Head over to the site and immerse yourself in the experience.
---
WCG is an award-winning, full-service, public relations, print and digital advertising and marketing firm assisting companies throughout Naples, Fort Myers and Southwest Florida in the development of successful brand, marketing and advertising strategies. Its partner company, Sprickit Digital, offers full-service digital marketing and digital advertising services throughout Florida and the United States. Their offices are located at 2343 Vanderbilt Beach Road, Suite 608, in Naples, Florida. For more information, call 239-597-9480, visit www.wcgpros.com or sprickit.com